FREE LUPIN HEAT PACK AND FREE SHIPPING FOR RETAIL ORDERS OVER $100 WITHIN AUSTRALIA
| | |
| --- | --- |
| Country of Manufacture | Australia |
Inner: Do not immerse in water. Dab clean with a solution of warm water and mild detergent. Do not machine wash. Do not tumble dry.
Dry flat away from direct sunlight.

Dura-Fab Outer Cover: Do not bleach. Do not machine wash. Do not tumble dry. Line dry. Warm iron. Dry cleanable.
Extend the Life of Your Spinal Support Back Cushion
Protect and rejuvenate your Total Spinal Support with a custom-fitted Dura-Fab Cushion Cover, designed to enhance the longevity and performance of your back support system.
Dura-Fab: Unmatched Softness and Durability
The Dura-Fab material offers a soft, suede-like texture that is not only comfortable against the skin but also easy to maintain, repelling most stains and spills for a consistently clean appearance.
Perfect Match for Total Spinal Support
This cover is tailored to fit the unique contours of the Total Spinal Support, ensuring every curve and angle is perfectly accommodated, enhancing the cushion's effectiveness in providing full back support.
Durable and Easy to Clean
Dura-Fab's superior fabric is ideal for everyday use, offering the ease of machine washing and quick line drying, keeping your Total Spinal Support looking and feeling fresh.
Total Spinal Support - Full Size Back & Spine Support Chair Cushion is a molded postural back and flank support designed to prevent lateral movement. The support offered by the flanks relieve stress on the major structure of the lumbar spine and rib cage. Beautifully covered and ideal for the car, office and couch.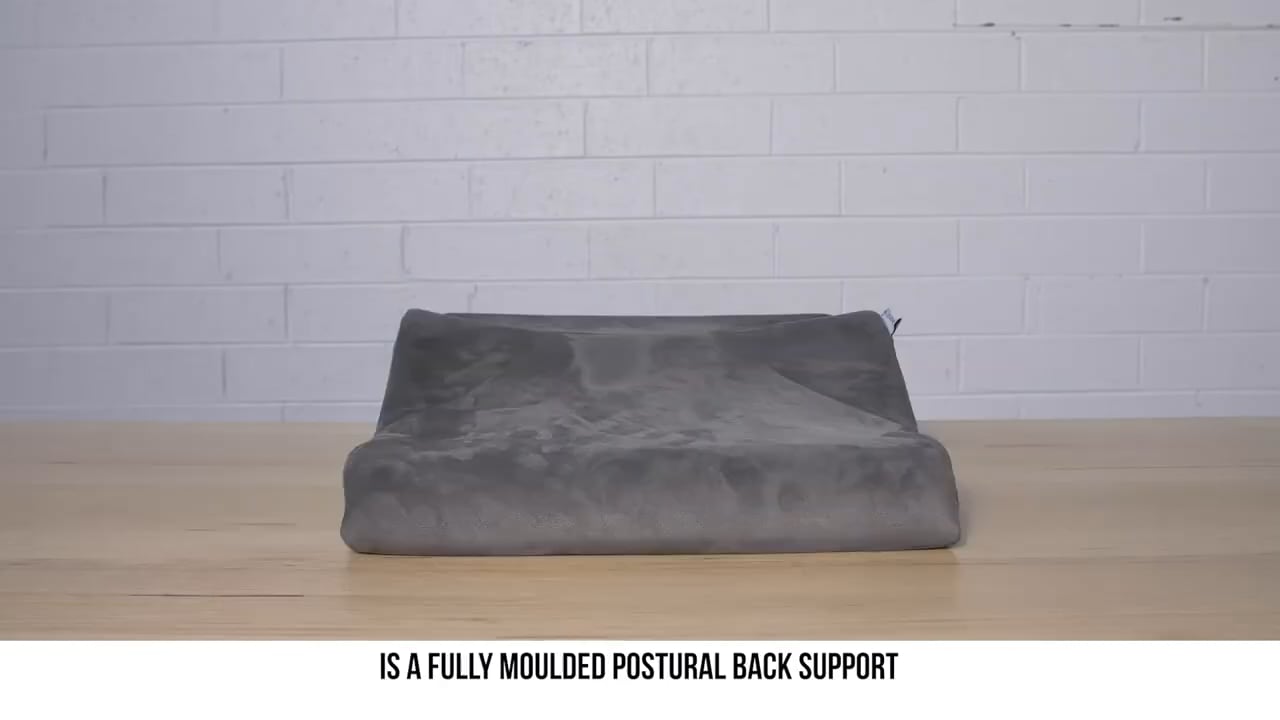 Full size postural back support chair cushion
A full moulded postural back support featuring unique flanks designed to prevent lateral movement. Soothes and alleviates back pain through premium firm support.
Proudly Australian Made & Owned.
Our products are expertly crafted in Australia by Therapeutic Pillows, our family-owned and operated business, celebrating 50 years of excellence. We adhere to world-class manufacturing, health, and safety standards, showcasing our commitment to quality as a proud Australian-owned company.
Designed by Health Professionals
We consult with Australian Chiropractors, Physiotherapists, Osteopaths, and Naturopaths to design therapeutic products that provide relief from discomfort caused by a range of health conditions.
Fast Delivery
Australia Wide
Designed and Recommended
by Health Professional
Rated 5 Stars on
Feefo in 2021
Registered NDIS
provider
95% of our Products
Made in Australia
Need Help Deciding?
Product Finder
Answer a couple of questions and we'll try and find the perfect product
Give it a go
Ask a product question
Don't feel like chatting on the phone? We understand.
Lets do it
Give us a ring
Talk with a real person, not a robot. We're here 5 days a week to answer all your questions.
03 8585 6685