FREE LUPIN HEAT PACK AND FREE SHIPPING FOR RETAIL ORDERS OVER $100 WITHIN AUSTRALIA
| | |
| --- | --- |
| TGA Listed | Yes |
| Australian Register of Therapeutic Goods Number | No. 174455 Device: Pillow |
| Size | 38cm wide x 52cm long x 14cm highest - 12cm lowest |
| Foam | 100% Australian made Visco Elastic Cell with Silica Gel Immersion |
| Cover | Open weave polyester |
| Country of Manufacture | Australia |
Inner: Do not immerse in water. Dab clean with a solution of warm water and mild detergent. Do not machine wash. Do not tumble dry.
Dry flat away from direct sunlight.
Cover: Normal wash and dry. (To avoid damage to the foam from constant removal of cover, leave cover permanently on the pillow once you have configured it to suit your comfort needs).
General: To help the lifespan and generally protect the pillow we recommend the use of the Naturelle Pillow Protector in medium size.
Get a Cooler and Restful Night's Sleeps with and Extra-Soft adjustable Memory Gel Pillow
Extra soft fully adjustable contoured memory foam supports the neck and spine, while silica gel infusion helps to keep you cool.
No Matter your Sleeping Position, Enjoy the Comfort and Support of the Complete Sleeprr Gel Infused Pillow
Premium extra-soft memory foam shapes to your head and neck and provides spine support.
One side lower contour, other side higher contour - the choice is yours.
Inserts and noodles can be adjusted or removed to find your most comfortable fit.
Scalloped under-edges allow shoulders to slip snugly beneath the pillow.
Gel infused memory foam regulates and cools body temperature.
Contour pillow shape helps to keep the airways open.
Recommended by more than 1000 Australian healthcare professionals.
An extra-soft pillow designed in conjunction with health professionals to help with a range of conditions and ailments.
Hot flashes.
Night sweats.
Overheating during sleep.
Headaches and migraine reduction.

Improves shoulder and neck pain.

Assists with sleep apnoea and snoring.
Encourages side sleeping.
Improves posture and general wellness.
Side Sleepers
Hot Sleepers
Designed to provide full cervical neck support.
An incredibly comfortable contoured cervical neck support pillow – extra soft gel-infused memory foam moulds and shapes to your head and neck, promoting correct spinal alignment and providing ample support to the spine. The noodles on the foam surface can be removed to further enhance softness.
The contoured design ensures the head and neck are properly cushioned and supported during sleep, helping to open airways and promote good breathing patterns. Side sleeping is encouraged, snoring minimised and neck and shoulder stress and muscle stiffness alleviated.
Cooling gel relieves night sweats, hot flashes and overheating.
Gel-infused memory foam responds to body temperature, delaying heat buildup and providing a cooling effect – wonderful relief from night sweats or the hot flashes many women experience during menopause.
The pillow comes encased in a 'breathable' open weave removable mesh pillow slip. Proudly Australian made & owned.
A fully adjustable pillow
Therapeutically contoured, the Complete Sleeprrr pillow has two easily removable inserts that allow you to change the shape and height of the pillow to suit your comfort and postural needs. This takes the risk out of your pillow being too high, too low, too hard or too soft. It's all so simple. One size suits all with this amazing memory foam pillow!
Four different Complete Sleeprrr's to choose from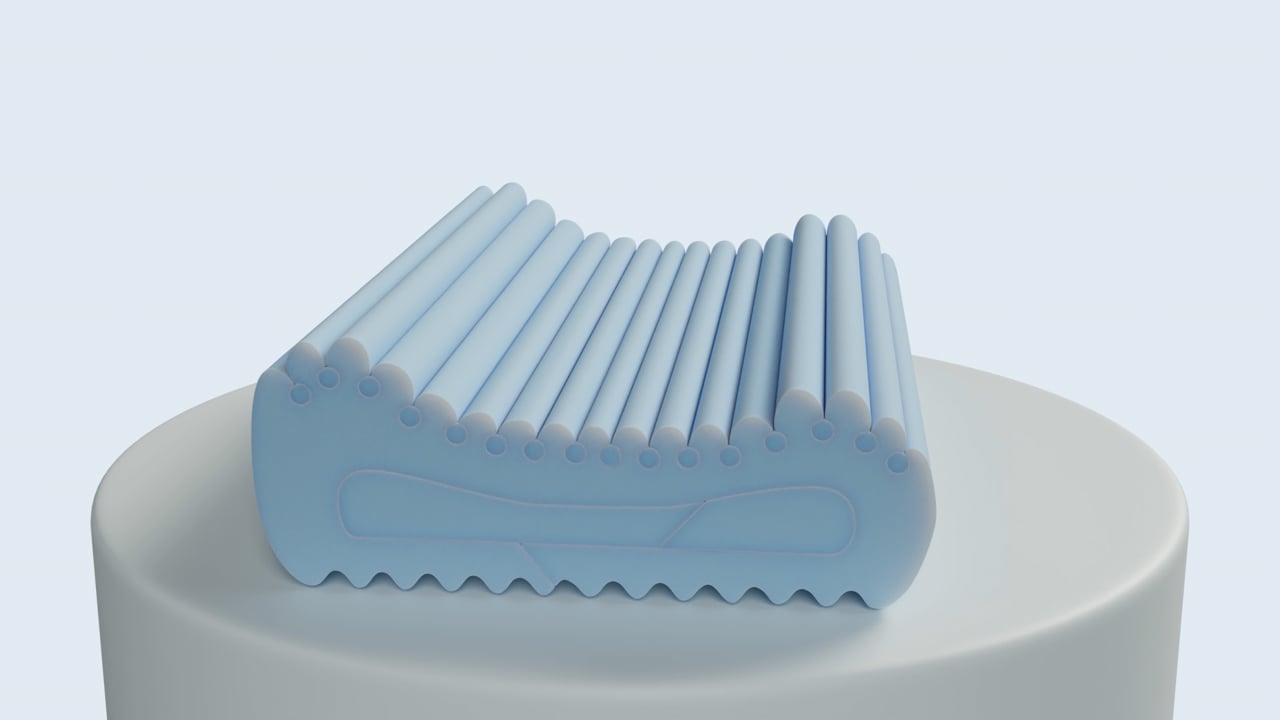 Easily adjust the height and shape
Foam inserts can be easily removed and adjusted to change the height and shape of the pillow.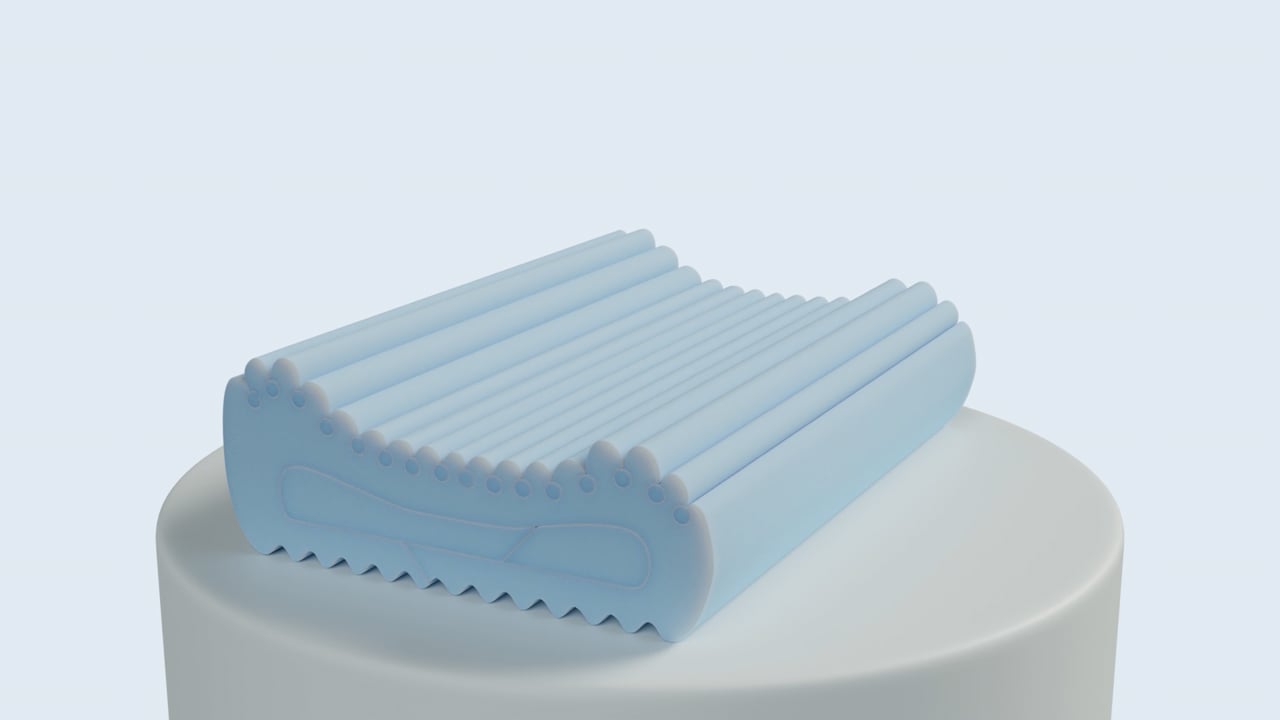 Easily adjust the firmness
Foam noodles can be easily removed to adjust the firmness of the pillow – the more noodles you remove, the softer the pillow becomes.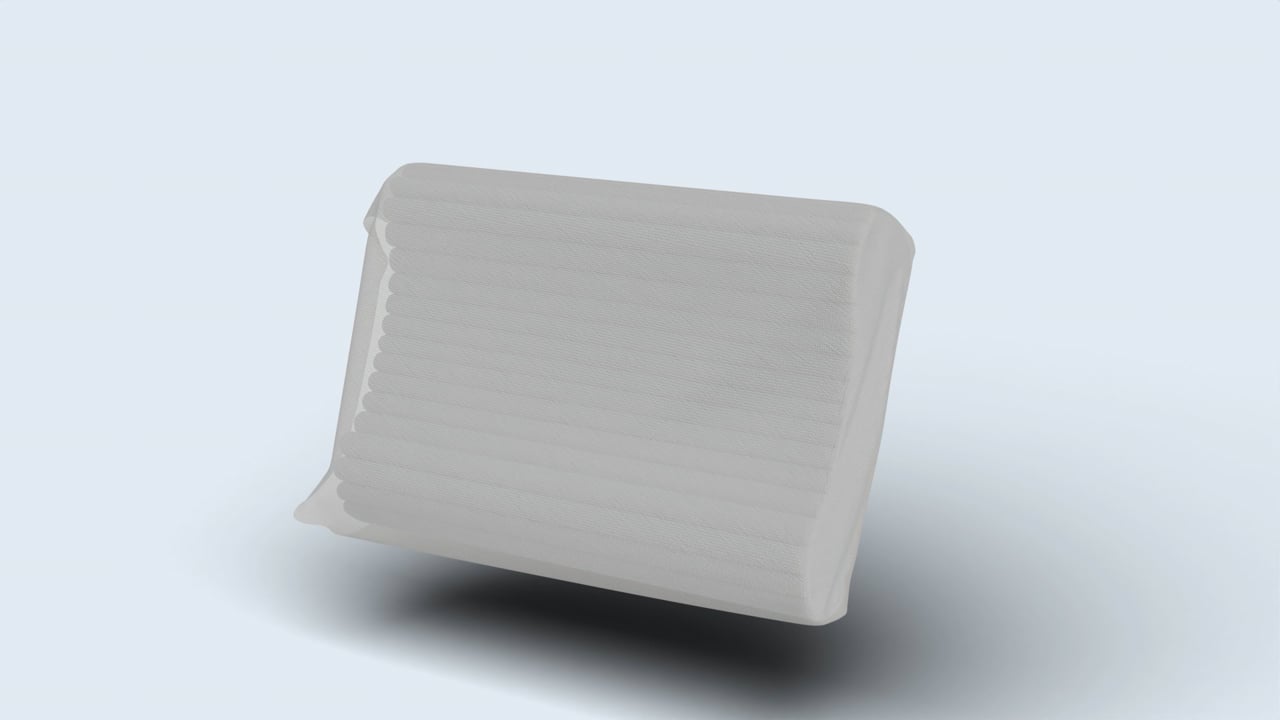 Soft open weave mesh cover
A premium breathable, soft cotton mesh cover designed to protect your pillow and provide additional comfort under your pillow slip.
With 4 foam density options available, the Complete Sleeprr Range is made for everyone!
Soft (Original - White)
Medium (Plus - Pink)
Firm (Deluxe - Yellow)
Extra Soft (Gel - Blue)
Temperature responsive to help keep you cool
Gel infused memory foam that responds to body temperature, delaying heat build-up and providing a cooling effect. The pillow is encased in an open weave cover designed for ultimate air flow.
Premium Australian made memory foam
Visco Elastic Memory Foam is a premium foam that is temperature sensitive and responds to the warmth of your body. With a super soft feel it actively moulds and shapes to your head and neck to provide spine support.
Proudly Australian made & owned
Our Complete Sleeprrr range are proudly made in Australia by us, an Australian family owned and run company, using world class manufacturing and health and safety standards.
Designed by Health Professionals
We consult with Australian chiropractors, physiotherapists, osteopaths and naturopaths to design therapeutic products that provide relief from discomfort caused by a range of health conditions.
See What 5000+ Customers Are Saying
Service Rating : Purchase was very easy, pillow was received in good time.

Product : After spending a considerable amount of money for this pillow I am pretty disappointed that the pillow is already flattening out and not giving the neck support I thought it would. I have had to adjust the inner foam parts several times to get more lift from it.
Service Rating : Really great service excellent products and great sleep!

Product : Comfortable, cool and a great pillow for a wonderful nights rest
Service Rating : Fast delivery.

Product : Gel infused is no different to the standard pillow, just $10 dearer.
Fast Delivery
Australia Wide
Designed and Recommended
by Health Professional
Rated 5 Stars on
Feefo in 2021
Registered NDIS
provider
95% of our Products
Made in Australia
Questions & Answers
I have the complete sleeperr but I was thinking of getting the complete sleeperr gel infused. If I find it's still not quite cool enough can I add the cooling pad on it.
The gel pillow is a lot softer in feel and we don't think the benefits of the cooling foam are significant. We would be more inclined to try the gel pad on top of the pillow and see how that goes.
I have a lot of rheumatic and degenerative problems with my neck. Im torn between this pillow and the complete sleeprrr original. I need it to be soft but supportive.
We think you will find the gel version to be a little bit too soft so we would definitely recommend the original version for you. You can soften that a little further by removing noodles and lowering the height of the product also.
I am looking for your adjustable memory foam pillow, can I adjust the height - centre lower and either side higher?
The complete Sleeprrr Gel Infused Memory Foam pillow is height adjustable. Both wedges in the center of the pillow are removable thus changing the height of the side of the pillow on either side.
Is there a physical store where I can view/feel for the pillows and buy them in store, rather than online?
Yes we have a showroom at at 234 Centre Dandenong Road, Cheltenham VIC
Does the memory foam have an odour? How does it stay together if inserts are removed. Looks as though there is nothing holding it, just flapping around.
There can be a slight odor with any foam product but that should disappear very quickly once out of its plastic bag. Any odor is usually caused by prolonged time in a plastic bag, particularly if in hot temperatures. If inserts are removed the pillow will still hold its shape ok but will be lower and feel softer. It comes in mesh slip which holds it together and then you put in your pillow slip.
Yes, the Gel is safe. It is nontoxic silica gel. The main effect of this pillow is the extra soft feel with the gel having a slight cooling effect of about 7% over memory foam that doesn't have the gel in the foam.
Which pillow is best for adult - snorer - tummy sleeper?
For a tummy sleeper the lower the pillow the better so you don't put undue pressure on the neck by twisting. For the snoring, you want to try and get on your side as much as you can as this tends to allow air to pass through your throat best and lessen the snoring. We would probably recommend our complete sleeprrr original and removing both the inserts to have it as low as possible while you get used to the contour and try to adjust to sleeping on your side. https://www.the-pillow.com.au/pillows/complete_sleeprrr_original_more. It is our best seller and the one we usually recommend. The gel is also a good option but is quite soft so depends on the amount of support you are after.
How can I raise the height further on my Memory Gel pillow? Is the Gel pillow the same height as the original?
The Complete sleeprrr gel is the same dimensions exactly as the original version but the gel is a much softer pillow. We have recently introduced these pillow raisers (image to come shortly) which are designed to go inside the pillow slip and raise the pillow by 2cm.
I sleep on my back and side. I get ear crush and a sore jaw from a firm pillow. I tend to wake up with a sore neck, currently use your regular pillow. Which end is recommended for back sleeping, the lower or higher contour?
The lower contour is more comfortable for back sleeping.
I wake up most mornings with a neck ache. I think i have tried almost every type of pillow on the market. I am also a hot sleeper and get a sweaty head. I was wondering if the original pillow can be used with a cooling gel pad? Or should I get the gel infused one, though it is softer?
We would definitely recommend the complete sleeprrr original and then use the gel pad inside the pillow. The cooling aspect will be much more effective. The gel-infused complete sleeprrr pillow is gel infused so will help a little but not as noticeable. The gel version is mainly recommended based on the feel which is a very soft pillow in my opinion.
Do you have an anti-snore pillow or a pillow that will stop snoring?
Unfortunately, there is no perfect solution for snoring. We have had very good responses over the years with the complete sleeprrr original as that is an adjustable pillow and does encourage side sleeping which is the best way to minimize snoring.
I suffer from allergies and hay fever which makes my eyes red and irritated. What's the best pillow for my allergies and hay fever?
The foam and memory foam pillows are all hypoallergenic meaning that there should be no issue with any allergies or anything else. Any pillow out of the foam range should be good for you.
How does the gel memory foam compare to the original? Is it firmer or softer? Does it conform to neck and head the same or is the foam structure different? I have cervical disc problems and sleep on my back.
The gel version of the complete sleeprrr is the same or perhaps a shade softer than the original version. It should be quite good for back sleeping with its adjustable aspects.
I sleep on my side and want to be sure that this pillow is suited to side sleepers before I buy, and what size of cover suits?
The gel version is the softest in our range. A great product but we think given you are a side sleeper you would be better off with the plus version which is a bit denser and gives more support and we usually recommend it for most males. The therasoft pillow case range will all fit this pillow and the medium size in the Naturelle pillow protectors will be the best option.
The complete sleeprr on the website says it's "soft" but the gel says its "extra soft". Do you have a version of the gel infused pillow that isn't "extra soft"?
Unfortunately, the gel version does only come in the extra soft option so to have a firmer will require either the original version (soft) or the plus version (medium). Perhaps if used with one of the pillow protectors any heat effect might be dissipated but we can't make the gel version in a denser version just at the moment.
Why does the info say it is soft foam but is it available in the 3 grades of softness (soft, medium, firm) the same as for the Complete Sleeprrr?
The gel C/S is just available in a soft version - similar in feel to the original C/S. The pillow should fit most pillow cases and if looking at a protector the medium pillow protector will be the best fit. It is the same size as the original complete sleeper.
If it is cooling, does it start as cold before it gets warmed up? The info. for the MemoGel pillow has "Rather than making you sleep on a cold surface, the MemoGel pillow absorbs excess heat through the gel surface and into the pillow." but this isn't mentioned in the info for the gel-infused pillow.
The gel-infused pillow does not start out colder but it does draw body heat into the gel particles thereby feeling slightly cooler than a regular memory foam pillow. It tends to also warm up slower than a normal pillow.
The Gel infused complete sleeprrr means that there is gel mixed in with foam during the pouring process and these are spread evenly through the pillow to allow for the benefits of the Gel be experienced. Primarily it provides a cooling sleeping process and also a little more softness to the product at the same time.
I am just wondering how soft the complete gel pillow is. Is it even softer than the original one? How do I choose from different versions of the pillow?
The complete sleeprrr gel is our extra-soft version and is a lot softer than the original. We typically suggest the original soft version for the average sleeper as it is the most popular of our ranges.
Does the Complete Sleeprrr Gel Infuse Adjustable Memory Foam Pillow come in any other firmness versions? I can only see the extra soft version at the moment.
The Complete Sleeprrr range has 4 options within it. Complete Sleeprrr Memory Gel - Extra SoftComplete Sleeprrr Memory Original - SoftComplete Sleeprrr Memory Plus - Medium to FirmComplete Sleeprrr Traditional Deluxe - Medium Density Standard FoamThe Gel option within this range is the extra soft option and the only one with the Gel option.
What type of pillow case would be suitable for Complete Sleeprrr Gel Infused Adjustable Memory Foam Pillow - Extra Soft Version CompleteSleeprrr Memory Gel Blue?
The TheraSoft 250 Thread Count P/Slips in the shorter length are suitable for the Gel-infused complete sleeprrr.
Just ordered original Sleeprr pillow - fantastic. Wanted to order gel infused, how much softer from the original is it.
The gel version for most people is too soft in comparison to the original soft version. It condenses a lot more than the original as the foam is a lot less dense due to the gel.
In your blog some customers complain about the smell from the pillow. Has this been rectified or shall I choose another pillow.
One of the main characteristics of memory foam is an initial smell which is a result of the manufacturing process. This smell does dissipate over time when aired out of direct sunlight prior to use.
Is the smell reported true and if so, how do you fix that problem?
One of the main characteristics of memory foam and foam products is that there is a slight manufacturing smell when initially purchased. This smell is not harmful and is not caused by chemicals and will dissipate once aired for 2-3 days. Unfortunately, we do have some customers that are more sensitive to the smell and are unable to use memory foam products as a result.
Need Help Deciding?
Product Finder
Answer a couple of questions and we'll try and find the perfect product
Give it a go
Ask a product question
Don't feel like chatting on the phone? We understand.
Lets do it
Give us a ring
Talk with a real person, not a robot. We're here 5 days a week to answer all your questions.
03 8585 6685