FREE LUPIN HEAT PACK AND FREE SHIPPING FOR RETAIL ORDERS OVER $100 WITHIN AUSTRALIA
| | |
| --- | --- |
| TGA Listed | Yes |
| Australian Register of Therapeutic Goods Number | No. 174455 Device: Pillow |
| Size | 38cm wide x 52cm long x 14cm highest - 12cm lowest |
| Foam | 100% Australian made open cell visco elastic memory foam |
| Cover | Open weave soft polyester |
| Country of Manufacture | Australia |
Inner: Do not immerse in water. Dab clean with a solution of warm water and mild detergent. Do not machine wash. Do not tumble dry.
Dry flat away from direct sunlight.
Cover: Normal wash and dry. (To avoid damage to the foam from constant removal of cover, leave cover permanently on the pillow once you have configured it to suit your comfort needs).
General: To help the lifespan and generally protect the pillow we recommend the use of the Naturelle Pillow Protector in medium size.
Foam Discoloration: Any discoloration of foam through exposure to natural light will not affect performance or foam longevity.
Adjustable memory foam neck support pillow for broader frames
Adjustable memory foam neck support pillow for broader frames
A completely adjustable medium-density memory foam pillow that suits broader frames. Designed to provide full cervical neck support to alleviate and prevent neck and back pain.
A Contoured Pillow for any Sleeping Position: The Complete Sleeprrr Plus
Designed for broader frames and those that prefer a medium-firm pillow.
Inserts and noodles can be adjusted or removed to find your most comfortable fit.
Premium memory foam that shapes to your head and provides spine support.
Scalloped under-edges allow shoulders to slip snugly beneath the pillow.
High and low contoured sides help to keep the airways open.
Recommended by more than 1000 Australian healthcare professionals.
The Best Pillow, designed to help with a range of conditions and ailments.
Headaches and migraine reduction
Improves neck and shoulder pain
Assists with sleep apnea and snoring
Encourages side sleeping
Improves posture and general wellness
Best memory foam neck pillow for cervical support and spine alignment
The Complete Sleeprrr Plus is the larger, slightly firmer version of The Complete Sleeprrr Original - widely regarded by Australian health professionals as the best memory foam cervical neck support pillow.
Designed in collaboration with healthcare professionals to provide the best neck and spine support available. Therapeutically contoured, the Complete Sleeprrr Plus pillow has two easily removable and re-workable foam inserts that allow you to change the shape and height of the pillow to suit your comfort and postural needs.
A memory foam pillow designed for broader frames.
People with larger bodies need different pillows designed specifically to support them. Made from premium Australian made temperature sensitive memory foam, the Complete Sleeprrr Plus features higher and lower sides of the pillow as well as contour variance for maximum individual support and comfort for side or back sleeping. Memory foam 'noodles' in core foam surface can be removed to make for an even softer pillow. Scalloped under-edges allow shoulder to slip snugly under pillow for a close-knit fit when side sleeping.
Helps you breathe easier for a good night's sleep
The contoured design ensures the head and neck are properly cushioned and supported during sleep, helping to open airways and promote good breathing patterns. Side sleeping is encouraged, snoring minimised and neck and shoulder stress and muscle stiffness alleviated.
The adjustable pillow comes encased in a 'breathable' open weave mesh removable pillow slip.
Completely customisable softness to suit your body shape and sleep preferences.
Users can dynamically change the surface density of the Complete Sleeper Pillow to suit their own comfort needs. For an even softer feel, simply take out the Memory Foam 'noodles' positioned within the channels on the pillow's surface.
If you do remove some or all of them to enhance the initial softness, you can store them for possible later use after natural softening of the pillow has occurred. Each channel can take up to three noodles together, to re-plump support where it is needed most - under your neck!
Four different Complete Sleeprrr's to match your sleep position and preferences.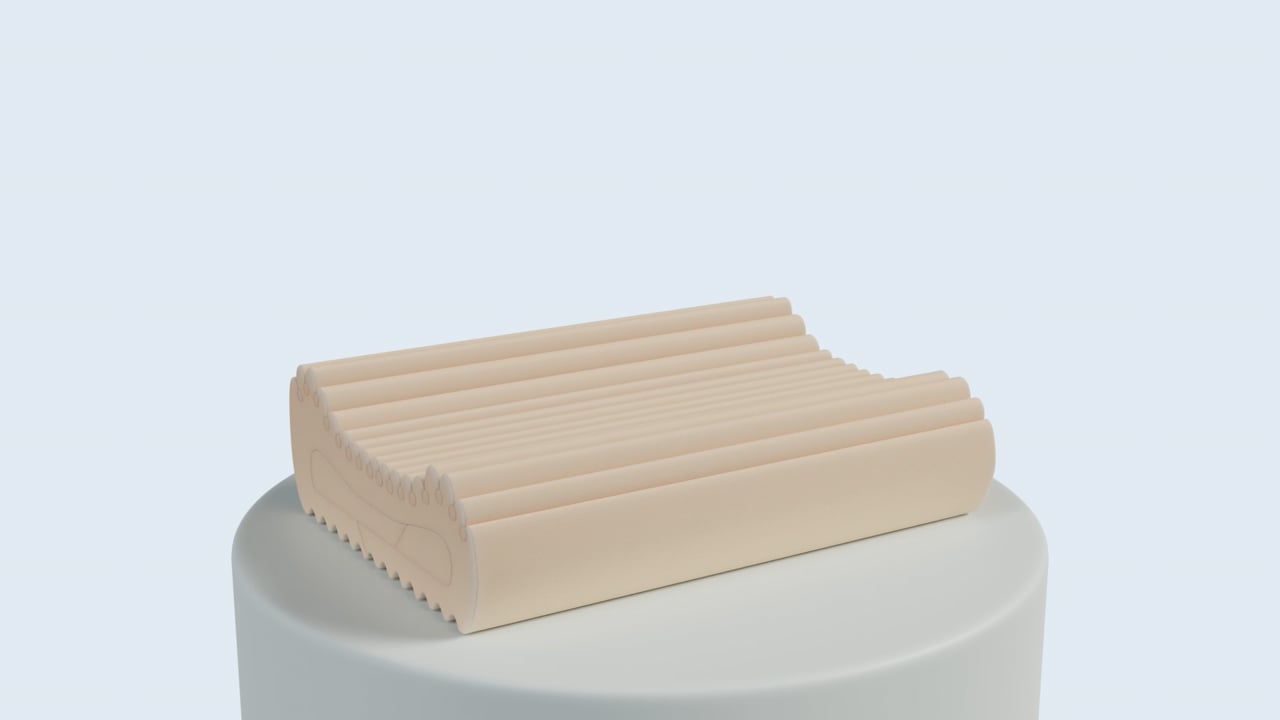 Easily adjust the height and shape
Foam inserts can be easily removed and adjusted to change the height and shape of the pillow.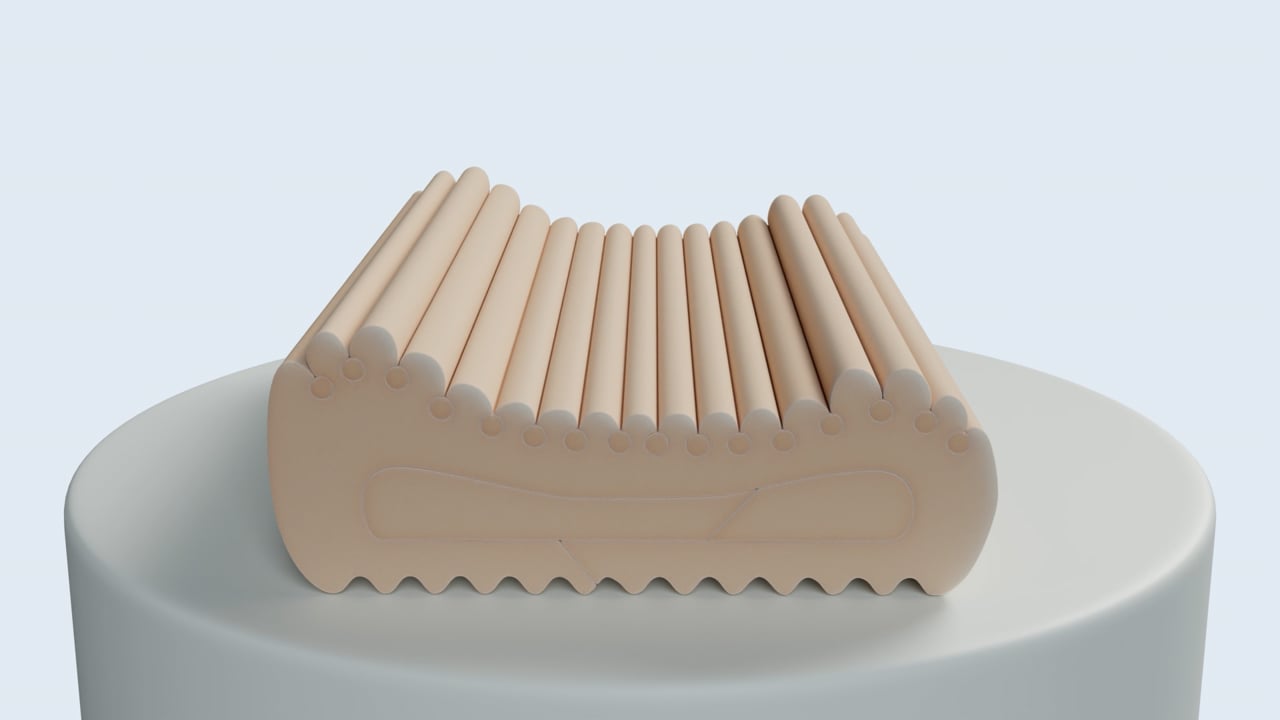 Easily adjust the firmness
Foam noodles can be easily removed to adjust the firmness of the pillow – the more noodles you remove, the softer the pillow becomes.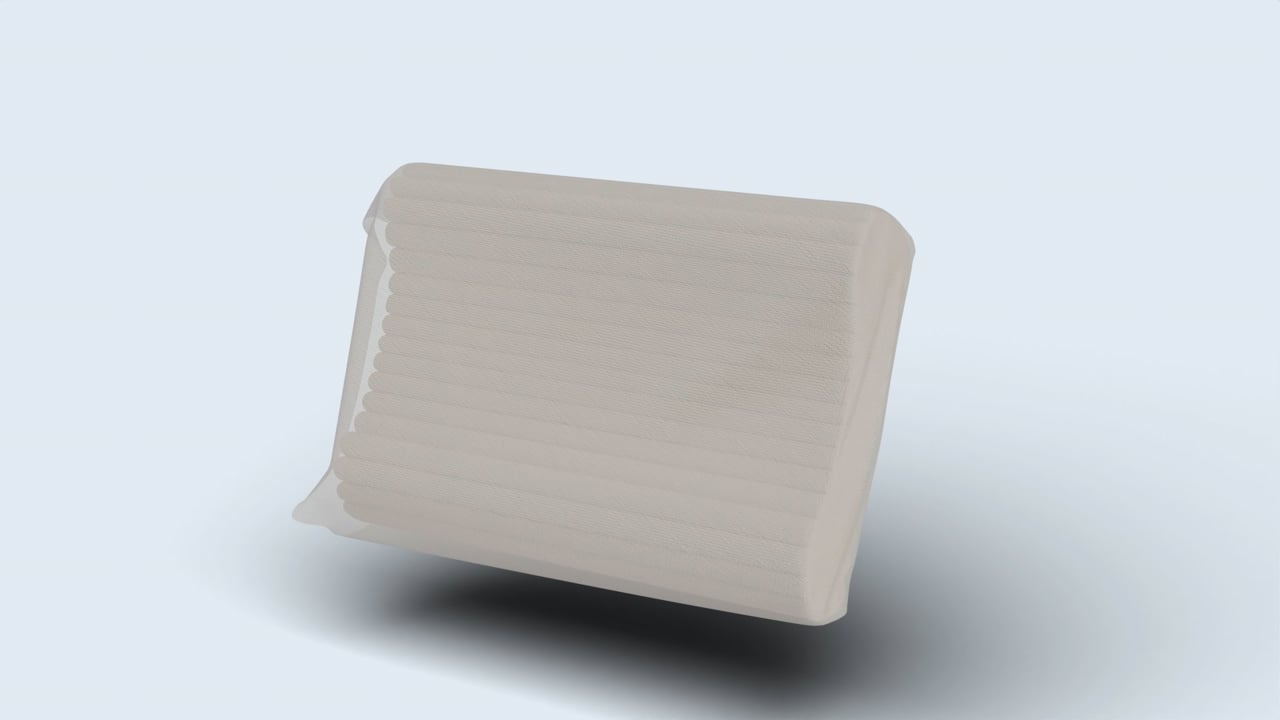 Soft open weave mesh cover
A premium breathable, soft cotton mesh cover designed to protect your pillow and provide additional comfort under your pillow slip.
With 4 foam density options available, the Complete Sleeprr Range is made for everyone!
Soft (Original - White)
Medium (Plus - Pink)
Firm (Deluxe - Yellow)
Extra Soft (Gel - Blue)
Premium Australian made memory foam
Visco Elastic Memory Foam is a premium foam that is temperature sensitive and responds to the warmth of your body. With a super soft feel it actively moulds and shapes to your head and neck to provide spine support.
Proudly Australian made & owned
Our Complete Sleeprrr range are proudly made in Australia by us, an Australian family owned and run company, using world class manufacturing and health and safety standards.
Designed by Health Professionals
We consult with Australian chiropractors, physiotherapists, osteopaths and naturopaths to design therapeutic products that provide relief from discomfort caused by a range of health conditions.
See What 5000+ Customers Are Saying
Service Rating : It was great !

Product : It is a great product and highly recomend
Service Rating : Not the company's fault, but it got misdirected all over the country before I received it.

Product : The high side is good if your sleeping on your side, but too high if sleeping on your back. The low side is the opposite. Which has caused me to wake with a sore neck in the morning even after adjusting it.

The chemical smell when you first open it is horrendous and made me question whether it was safe to use. I couldn't leave it in the house as it stunk the room out and had to leave it outside to air out for 2 weeks before the smell was gone.
Service Rating : Great service, easy to navigate website, smooth transaction and fast postage oh and my therapeutic pillow has been a wonder for my neck problems

Product : Have had ongoing back/ neck issues, been seeing a chiropractor, she recommended the therapeutic pillow and I haven't looked back
Highly recommend this product
Fast Delivery
Australia Wide
Designed and Recommended
by Health Professional
Rated 5 Stars on
Feefo in 2021
Registered NDIS
provider
95% of our Products
Made in Australia
Questions & Answers
Which pillow slip or cover goes with the Complete Sleeper Medium Pillow?
The TheraSoft 250 Thread Count Pillow Slip in the shorter length will fit the Complete Sleeprrr Medium pillow.
Just wondering if you sell a travel version of the complete sleeprr plus pillow?
The sleepaway pillow in memory foam is the same type of foam as the plus so should be pretty similar. If after exactly the pillow we have cut the complete sleeper plus pillows in half previously for customers who wanted a smaller version of the same pillow.
What is there difference between the Memory plus and the Deluxe Traditional memory foam pillow?
The Memory plus pillow is a memory foam product meaning you will mold it into it and it will shape with the contours of your head and neck. The plus version is a slightly firmer (more dense) product than the original version. As a really general rule, the plus is recommended for men and the original for adolescents, women, and seniors. The deluxe version is a normal type of foam meaning it doesn't conform so much to the shape of your head and neck. It is a more rigid feeling pillow. Great for those that like solid support for the neck and head.
Do you have a pillow that would assist with UARS?
While we don't have a specific pillow for UARS but from my understanding, anything that can help you keep in a position of side sleeping in good alignment should perhaps help with UARS. Usually, it is a blockage of the air passageway via the tongue if breathing through the mouth (side sleeping should help with this) or the nasal passage which also should help congestion by sleeping on the side so long as the pillow does not get in the way. The complete sleeprrr original pillow would be my recommendation for UARS. It is adjustable so you can tailor it to your comfort and being a foam pillow it will not fluff up and obstruct your breathing further. We would recommend the plus version as it is firmer and there is less chance of any obstruction to the breathing airways. The bed wedge may also be of interest.
I would like to buy a pillow but i did not understand the difference between : complete sleeprr original soft version and complete sleeprr plus medium version
The original version is slightly softer and as a general recommendation, we find it most suitable for adolescents, females, and seniors while the medium version is a bit firmer and we usually recommend that for adult males. Of course, this is just general advice as some people prefer harder or softer pillows but feedback is usually about right.
I sometimes find when I sleep on my side, my respective arm falls asleep. Does the sleeper pillow help with that?
The pillow probably won't help greatly with a "dead arm" as that is probably more to do with the positioning of the arm and the type of mattress that you are on. It is not usually an issue but we can't definitively say that the pillow will help with your arm positioning.
I have a lot of neck pain and I am a side sleeper. Is this pillow right for me?
Definitely, the complete sleeper is the way to go. If you prefer a firmer pillow then the plus will be the best option. If you prefer a softer pillow then the original has good support, a lovely feel, and is also adjustable.
I have neck pain, what is the best pillow and what do you recommend?
We tend to usually recommend the complete sleeprrr in memory foam. If you would like a softer pillow then the original version is the one we would recommend. If it is a firmer pillow that you prefer then the plus version would be my recommendation. Both are adjustable, give great support, and are very comfortable.
Do you have any anti snoring pillow?
Unfortunately, there is no miracle pillow to stop snoring but our products do tend to help by encouraging one to sleep on their side which should give great support and alleviate the snoring (which is most noticeable when you are on your back). We normally always recommend the complete sleeper memory plus pillow and it is always very well received as it gives slightly more support than the original version. Hopefully, it can help you also.
The pillow is too hard and cannot get used to it, is it possible to exchange to a softer one?
Most certainly you may as we offer an exchange/refund policy. Please click the link below for more informationhttps://www.the-pillow.com.au/about/returns
How long do these pillows last before recommended renewal?
We normally recommend changing over the complete sleeprrr plus every 3 years approx though many find the pillows good for much longer than that. The weight of the head and perspiration tend to be the major determinants of when a pillow should be replaced. The use of the pillow protectors will help keep your pillow in good condition and will extend the life of the product.
Does the complete sleeper plus fit into a standard size pillowcase?
Yes this pillow should fit in your normal style pillow slip but if you are concerned we do have a nice range of pillow slips available here under our therasoft range
I have bad neck pain and headaches from my neck and am after a more supportive pillow. I sleep on my back, like firm pillows, require a lot of neck support and I have a small frame. I am finding it confusing to choose between the Sleepr Original, Plus and Traditional and would like to know the main differences between each. Can you recommend a memory foam pillow?
We would recommend the complete sleeper plus and perhaps take the inserts out so it is a lower pillow for you as you sleep on your back. It is a firmer memory foam pillow which is what you are after and you can adjust its shape, it is very comfortable and supportive.
Can I wash my CompleteSleeprrr Memory Plus pillow? If so what is the best method?
Unfortunately washing the pillow will cause damage to the foam structure of the pillow. We recommend the use of pillow protectors to keep the pillow in a hygienic state. Any marks or spots can be dabbed clean with a damp cloth but the less moisture that the pillow is exposed to the better. We recommend the Naturelle pillow protector with all of our foam pillows.
Which pillow protector (allergies) fits the medium firmness complete sleeper plus adjustable memory foam pillow medium version?
The medium pillow protector fits the Complete Sleeprrr Plus
What is your return policy?
Here is the return policy but please give us a call on 03 8585 6685 and often we can help over the phone. https://www.the-pillow.com.au/about/returns
How long is the warranty?
Depending on what is wrong with the product but usually, for the Complete Sleeprrr we would say 12 months and all depending on what the fault is. Please feel free to send any images to
[email protected]
I am looking at purchasing a contour pillow as I have neck and shoulder pain and I have heard these are really good for supporting my shoulders/neck whilst sleeping. I am just unsure between the original and the medium for broader builds. I have broad shoulders and I'm overweight, does this mean the medium would be more suitable?
The main difference is that the plus version is a denser and more firm pillow in comparison to the softer memory foam in the original version. Based on the information you have provided, we would suggest the plus/medium version to ensure that suitable support is provided.
Which is the best pillow to use with the bed wedge?
Generally, the bed wedge is used for sleeping on your back so a low-profile pillow is usually best. The pillow in the image is the Naturelle latex pillow in low size and you would be best off removing the insert to keep the pillow as low as possible.
I have been diaganosed with arthritis of the neck and right shoulder and not able to find a pillow that supports this area comfortably. I am a side sleeper. Please advise on a suitable pillow from your range.
We would recommend our most popular pillow the Complete Sleeprrr Original memory foam pillow. Like most of our pillows, it is contoured for great neck support. It also encourages side sleeping. If you are of a larger frame, we would recommend the Complete Sleeprrr Plus Memory foam pillow which is a firmer density pillow in comparison to the Original pillow.
I have a "COMPLETE SLEEPRRR PLUS - ADJUSTABLE MEMORY FOAM PILLOW" and was wondering how do I clean it. Can I put it in the washer on a wool or delicate cycle?
Our Complete Sleeprrr pillows are not machine washable so please do not place them in there. To clean your pillow, spot clean with a damp cloth and air out in shade. We recommend using a pillow protector also.
Do you have sell complete sleeprrr plus pillow case?
Yes, we do sell a case for the complete sleeprrr plus. The shorter-length version of the Therasoft pillow case will be the best option for this pillow.
I purchased the Complete Sleeprr Plus Adjustable Memory Foam Pillow - Medium Version but Im finding it far too hard. Which other contour pillow would you recommend for softness?
I would perhaps recommend the original version which is about 15% softer but still might be too hard. As such, I would probably recommend the wellness pillow which has a lovely feel and still gives good support.
Sometimes I have to sit up to breathe easily. Can I use this pillow?
We think probably the bed wedge might be a better option if you need elevation while you are sleeping, to be honest. The product gets great feedback from a vast amount of users.
I have TMJ disorder and was wondering if this pillow would be most suitable for me?
The Complete Sleeprrr range is popular with those who have TMJ.
Just wondering how often should this pillow be replaced?
Your neck will tell you when it is time to replace your pillow. If you feel you are not getting the support you need, the pillow has probably flattened and softened over time.
I am a back sleeper. Should I remove the inserts from the pillow
Yes, as it will probably be too high for back sleeping with both inserts inside the pillow.
Do you have ANY instructions or videos for how to best setup the pillow?
There is a short video on this pillow on our home page. You could also take your pillow to your health professional. Most physiotherapists, chiropractors, osteopaths, and myotherapists will be familiar with this pillow and should be able to assist. Very welcome to call us on 03 8585 6685 to discuss further.
What is meant by adjustable memory as distinct from the others?
Our Complete Sleeprrr memory foam pillows are adjustable as there is an insert that can be removed to lower the height of the pillow. Also, it is made of noodles that can be removed to adjust the comfort of the pillow if needed. Our Complete Sleeprrr pillows are Australian Made and of great quality.
Is this pillow suitable for back sleepers or only side sleepers?
This pillow is suitable for all types of sleepers, please note that it is the softest pillow in the range.
I sleep with my arm under my pillow and I tend to sleep on the side as well, what would be the best pillow for me? Do you have a pillow with an arm tunnel?
Unfortunately, we do not manufacture a pillow with an arm tunnel. We would suggest either our latest or memory foam ranges for side sleepers as they support the contour of your neck whilst also providing a soft-firm option.
I just wondered if it can be adjusted so you're sleeping a little more upright as opposed to flat. I try to sleep a little more upright (with 2 pillows at the moment which isn't very comfortable!) to avoid fluid retention around my eyes/brow bone area. If I sleep flat, I have quite puffy eyes the next day.
Unfortunately, this product cannot be adjusted to elevate on an angle and is designed with laying flat being the primary position. We would suggest looking at our bed wedge or adjusta wedge if angled sleeping is something more suitable and comfortable for you.
I am very sensitive to smell, is there any alternative?
We would suggest looking at the Naturelle Latex pillow range if sensitivity to smell is a concern. All memory foam products do have an initial smell which does dissipate over time however, the latex products do not have this concern. Please note that the feel of a latex product in comparison to a memory foam can be quite different.
Need Help Deciding?
Product Finder
Answer a couple of questions and we'll try and find the perfect product
Give it a go
Ask a product question
Don't feel like chatting on the phone? We understand.
Lets do it
Give us a ring
Talk with a real person, not a robot. We're here 5 days a week to answer all your questions.
03 8585 6685