FREE LUPIN HEAT PACK AND FREE SHIPPING FOR RETAIL ORDERS OVER $100 WITHIN AUSTRALIA
| | |
| --- | --- |
| TGA Listed | Yes |
| Australian Register of Therapeutic Goods Number | No. 174455 Device: Pillow |
| Size | 38cm wide x 58cm long x 14cm highest - 12 cm lowest |
| Foam | All-new 100% open cell 'breathing' urethane foam. |
| Cover | Open weave soft polyester |
| Country of Manufacture | Australia |
Inner: Do not immerse in water. Dab clean with a solution of warm water and mild detergent. Do not machine wash. Do not tumble dry.
Dry flat away from direct sunlight.
Cover: Normal wash and dry. (To avoid damage to the foam from constant removal of cover, leave cover permanently on the pillow once you have configured it to suit your comfort needs).
General: To help the lifespan and generally protect the pillow we recommend the use of the Naturelle Pillow Protector in medium size.
Fully adjustable traditional foam contour pillow for neck support
A premium Australian-made traditional foam contour pillow with fully adjustable height and shape. Designed to provide optimum neck and spine support for those that prefer a firm pillow.
The Complete Sleeprrr Deluxe pillow: Simple the Best Pillow for its comfort and support!
High-quality 100% Australian-made foam.
Removable foam inserts enable adjustments to the height and shape of the pillow.
Removable foam noodles enable adjustment to the firmness of the pillow.
Scalloped under-edges allow shoulders to slip snugly beneath the pillow.
Contoured with one side lower, the other side higher.
The shape encourages side sleeping and helps keep airways open.
Recommended by Australian Chiropractors, Physiotherapists, Osteopaths, Myotherapists and Naturopaths.
Designed in conjunction with health professionals to help with a range of conditions and ailments
Headaches and migraine reduction.
Improve neck and shoulder pain.
Assists with sleep apnea and snoring.
Encourages side sleeping.
Improve posture and general wellness.
An adjustable memory foam pillow that supports correct alignment helping you to breathe easier.
The Complete Sleeprrr Deluxe pillow is the traditional foam version of The Complete Sleeprrr Original, for people that prefer the firmer density of traditional foam. Using open-cellular technology, traditional foam is widely known for its product longevity and economical price. Regarded by many health professionals as an ideal 'marriage' between comfort and support.
Contoured Pillow design for cervical neck support
The contoured design ensures the head and neck are properly cushioned and supported during sleep, helping to open airways and promote good breathing patterns. Side sleeping is encouraged, snoring minimised and neck and shoulder stress and muscle stiffness alleviated.
Two easily removable and re-workable inserts allow you to change the shape and height, making the Complete Sleeprrr the perfect adjustable pillow to suit your comfort and postural needs. This takes the risk out of your pillow being too high, too low, too hard or too soft. It's all so simple.
If you are a side sleeper, this is the perfect pillow for a good night's sleep.
Four different Complete Sleeprrr's to choose from
The Complete Sleeprrr Deluxe is the most firm and rigid of the Complete Sleeprrr Pillow series. It is designed to be firmer than both the Complete Sleeprrr Original and the Complete Sleeprrr Plus Memory Foam Pillows to provide great body support, however if you prefer a softer pillow then we highly recommend the Complete Sleeprrr Original Pillow in our premium Australian made Memory Foam.
The Complete Sleeprrr pillow is available in four different fully adjustable options: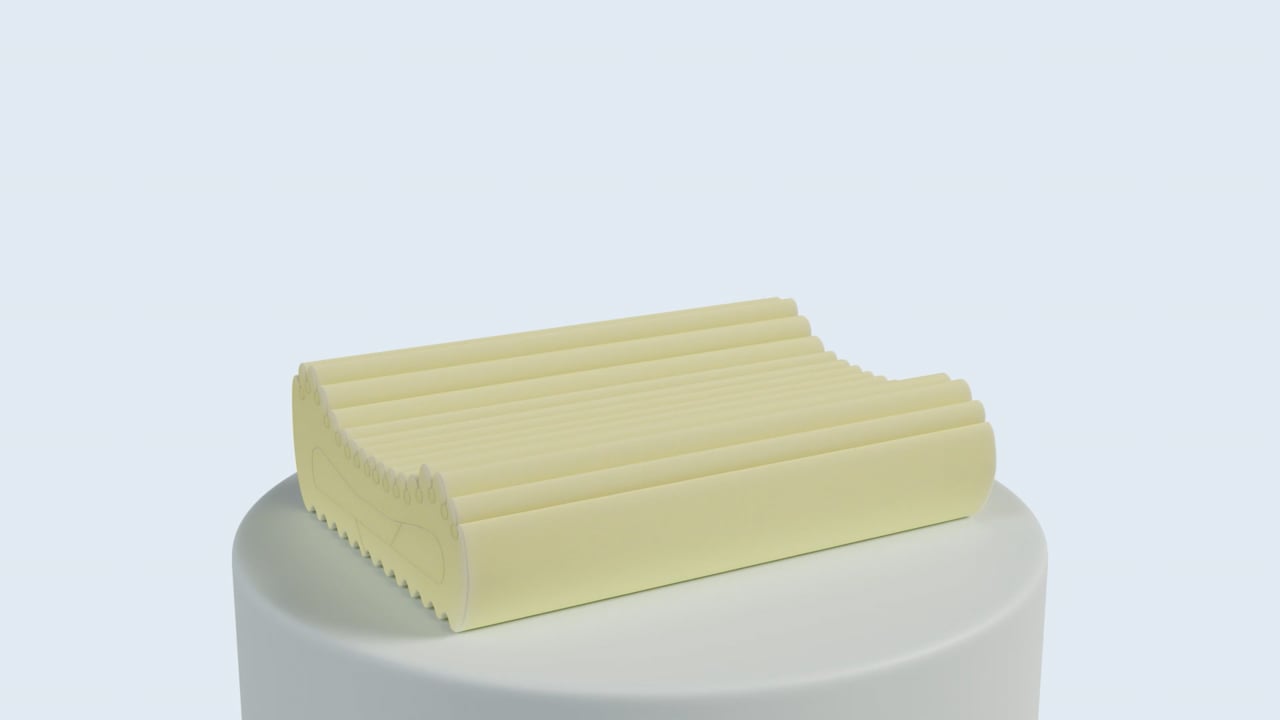 Easily adjust the height and shape
Foam inserts can be easily removed and adjusted to change the height and shape of the pillow.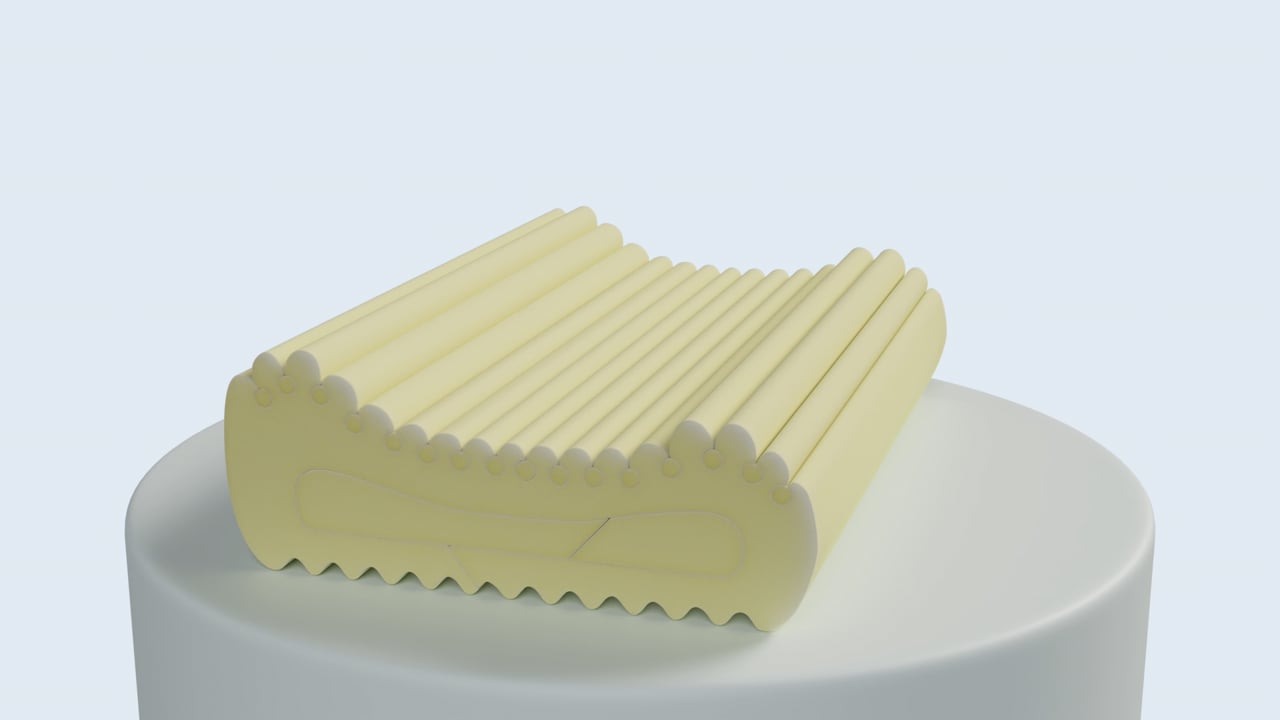 Easily adjust the firmness
Foam noodles can be easily removed to adjust the firmness of the pillow – the more noodles you remove, the softer the pillow becomes.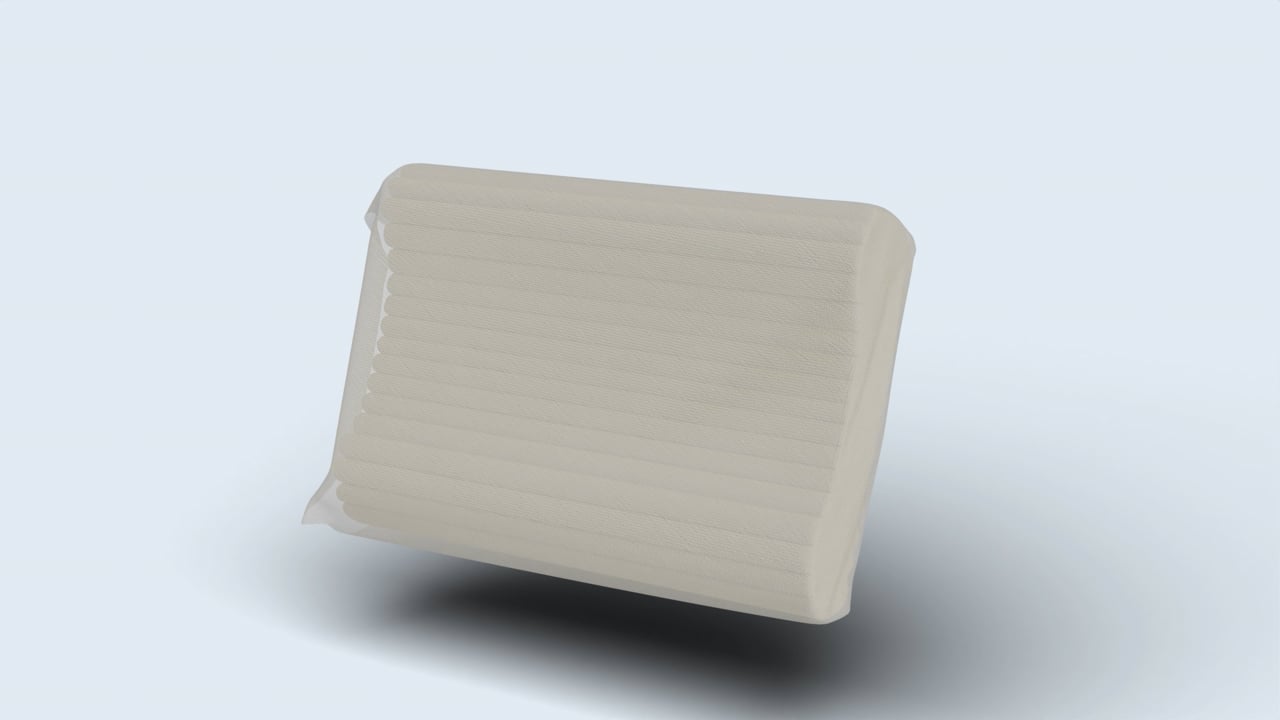 Soft open weave mesh cover
A premium breathable, soft cotton mesh cover designed to protect your pillow and provide additional comfort under your pillow slip.
With 4 Foam Density Options Available, the Complete Sleeprr Range is Made for Everyone!
Soft (Original - White)
Medium (Plus - Pink)
Firm (Deluxe - Yellow)
Extra Soft (Gel - Blue)
Premium Australian made traditional foam
Made using open-cellular technology, traditional foam is widely known for its product longevity and economical price. Regarded by many health professionals as an ideal 'marriage' between comfort and support.
Designed by health professionals
We consult with Australian chiro's, physio's, osteo's and naturopaths to design therapeutic products that provide relief from discomfort caused by a range of health conditions.
See What 5000+ Customers Are Saying
Service Rating : Great service and fast delivery

Product : 5 stars perfect pillow. *****
Service Rating : Pillow sent out posted quickly came well packaged. Store was easy to purchase through.

Product : Firmness is good. but when sleeping it folds in half because of the openings on the bottom and the middle which makes it to low and really uncomfortable.
Service Rating : Great pillow and really quick delivery! Thanks

Product : Comfy pillow, finally one without memory foam.
Fast Delivery
Australia Wide
Designed and Recommended
by Health Professional
Rated 5 Stars on
Feefo in 2021
Registered NDIS
provider
95% of our Products
Made in Australia
Questions & Answers
I have been happy with the complete sleeprrr deluxe pillow but i am wondering if you have any more suitable products for Paraesthesia?
Our understanding of Paraesthesis is that good posture should help to lessen the numbness and tingling effects. If the complete sleeprrr has worked for you in the past I would stick with that product as it can be adjusted to suit your specific postural needs. The memory foam version may be worth looking at. We are not sure if the bed wedge might also aid your paraesthesis by placing you on a slight angle while sleeping. It may be worth a look also or discussing with your health therapist or doctor.
Is there a pillow that is suitable for lying on my side or on my back?
We normally recommend the original memory foam complete sleeprrr if lying on your back and side. It will naturally adjust to changes in position for both side sleepers and back sleepers. The deluxe is great and will work also but is a little more rigid in its feel so will hold its shape more.
What is the firmest pillow you can buy?
We think the tranquil low small deluxe and standard deluxe are quite firm but the most firm is probably the memorial contour pillow which really does hold its shape.
I am looking for a pillow that will help me with my sleep apnea
We like the deluxe pillow because it will give you good support and keep your airways as open as possible when sleeping on your side if you are not using a CPAP mask. It is firmer than the memory foam pillows which we think is a better option for sleep apnea. If you are using a mask then the easy breather is probably a better option for comfort as it will have a space for the mask on the pillow.
My pillow has become a bit smelly. Can it be washed?
No, the pillow cannot be washed. You may dab a few drops of essential oil on the pillow or pop a pillow protector on.
What is the guarantee on the sleeprrr pillows and how long should they last?
There is no official guarantee as such. If there was a quality concern, we would replace or refund immediately. The longevity varies from person to person, some update yearly, others far less frequently.
I have the original but it is too soft for me. Any suggestion?
If the original is too soft then we would recommend complete sleeprrr plus for you which is approx 20% firmer. With regards to lifespan, we recommend approx 3-5 years for pillows though sometimes these periods can be shorter or longer depending on the size of the person, perspiration, sleep positions, etc.
Can you please advise the most suitable pillow protector size to match the Complete Sleeprrr Traditional contour pillow?
The large size protector will be the best option for the complete sleeprrr deluxe pillow.
What is the best method of washing these pillows?
The pillow cannot be washed. You may dab/spot clean with warm water and detergent.
Can I get a Latex protective cover for the Complete Sleeprrr Traditional - Adjustable Deluxe Foam Pillow?
Yes, you will be able to get one of these. The medium size should fit best and can be purchased here https://www.the-pillow.com.au/pillow-slips-covers/Replacement-Naturelle-Latex-Pillow-Cover
I have purchased the Complete Sleeprrr Traditional - Deluxe Foam Pillow - just want to check if it requires a pillowcase. The photos show it without.
Yes, you would just use your normal pillow cases on the top of the pillow. We also recommend a pillow protector of some sort to add to the pillow's lifespan and to keep it clean over time.
Where can I buy a Complete Sleeprrr Pillow?
You can order online or see us in the showroom at 234 Centre Dandenong Rd Cheltenham, VIC
In the Complete Sleeprr range of pillows which type for form is the coolest to sleep on (or which is most suitable for my hot headed (sweaty) husband)?
The Gel blue which contains gel throughout the foam should help to dissipate heat from the face into the pillow. Pillow will be coming out in the next few weeks. Alternatively, the new MemoGel might be what he is after. To lessen sweats we recommend the Naturelle pillow protectors which will keep the pillow dry.
Can this pillow be used for 5 year old boys? By taking out the middle part?
It will still be too big for a 5-year-old. We would recommend the family pillow junior or the Naturelle latex low pillow for a boy of 5 years.
Speciality Pillows for spondylosis "Neck Problems"
While we don't have a specific pillow for spondylosis we have had good feedback with the complete sleeper deluxe pillowhttps://www.the-pillow.com.au/pillows/complete_sleeprrr_deluxe_more The memory foam versions are our best sellers but those suffering spondyloses tend to prefer something that is a tad more rigid in its feel and with the adjustability aspect the deluxe version is usually very well received.
How do I know it is adjusted correctly?
The best way to know a pillow is adjusted correctly is that it should be quite comfortable but if lying on your side your neck should be in a straight line with your head neither tilted upwards nor tilted downwards. You will need someone to get someone to have a look at the way you are lying to make sure it is all lining up ok for you. H
Which is the best pillow to help with snoring?
Any pillow that encourages you to side sleep should help alleviate snoring but you need to give good support along the neck and spine. For smaller frames, the complete sleeper original pillow is the best all around but for bigger framed guys the deluxe version gives more rigid support and won't lose shape under heavier weight. Hope this information is helpful.
Just wondering how long this pillow should last until we should be replacing it. Im currently using the complete sleeper and notice it getting discoloured from sweat etc Ive had for two years which I guess is quite a while.
Sweat is normally a bit of a killer of pillows as the moisture can prematurely soften the foam. Normally every 2-5 years we recommend replacement depending on how soft the pillow is getting (color shouldn't really matter). Also, the pillow protectors are a must to keep products in good condition and will keep products pristine for much longer.
Deluxe Foam Pillow - Firmer Version - Is it similar to the medium one? I'd like a firm pillow but not too high for my neck.
These pillows are made of different foam options and therefore will feel quite different when directly compared. They are the same height however the plus medium version is a denser foam and sometimes can feel higher than the traditional foam option.
How long are the pillows meant to last?
The standard replacement period for any pillow is 2 years as they cannot be washed. They do not have a specified lifetime. We have also had customers in the past use their pillows for over 5 years due to them not requiring replacement. Most customers replace their pillows based on when they feel they are no longer receiving the comfort or support that they had originally.
Does this pillow have a warranty as mine is sinking after a few weeks, and I can't use it anymore?
This product has a standard 12 month warranty. Please email our team with your order number
[email protected]
and we can arrange a replacement product for you.
Do you have a trial free period?
Due to the nature of our products, we are unable to offer a free trial period. We do have all items in stock in our showroom to trial if you would like to come and see our team. 234 Centre Dandenong Road, Cheltenham
Need Help Deciding?
Product Finder
Answer a couple of questions and we'll try and find the perfect product
Give it a go
Ask a product question
Don't feel like chatting on the phone? We understand.
Lets do it
Give us a ring
Talk with a real person, not a robot. We're here 5 days a week to answer all your questions.
03 8585 6685