FREE LUPIN HEAT PACK AND FREE SHIPPING FOR RETAIL ORDERS OVER $100 WITHIN AUSTRALIA
| | |
| --- | --- |
| Country of Manufacture | Australia |
Inner: Do not immerse in water. Dab clean with a solution of warm water and mild detergent. Do not machine wash. Do not tumble dry. Dry flat away from direct sunlight.
Cotton Cover Wash in warm water using mild detergent. Line dry.
Their First Kids Pillowcase: Pure Cotton Comfort for Your Child
A Gentle Touch for Delicate Sleepers
Introduce your child to their first pillowcase, crafted from the softest cotton material, designed to provide a comforting touch against young, sensitive skin during the transition to a 'big kid' bed.
The Purest Cotton for Delicate Skin
Cotton is known for its natural softness and breathability, making it the ideal material for your child's bedding. "Their First Kids Pillowcase" ensures a cozy, comfortable, and hypoallergenic surface for a restful night's sleep.
Easy Care for Busy Parents
This cotton pillowcase is as practical as it is comfortable. Cotton's easy-care properties mean it's machine washable for hassle-free cleaning, ensuring your child's sleep environment remains hygienic and fresh.
Complement Their First Pillow
Pair this pillowcase with Their First Kids Pillow - 2+ years, designed specifically for young children's needs. Together, they create the perfect sleep setup for your child's health and comfort.
Designed with Love and Care
Like all our products, "Their First Kids Pillowcase" is crafted with attention to detail and a commitment to providing the best for your child, ensuring they get the quality rest they need during these crucial early years.
Their First Pillow - 1 to 3 years is a gently contoured, extra soft pillow, made to allow movement. The low contoured side profile suits toddlers from 1 to 3 years and be the perfect introduction to good pillow support through their lifetime. The pillow will give your child the correct sleeping position and the pillow's construction will help with breathing, asthma and allergies.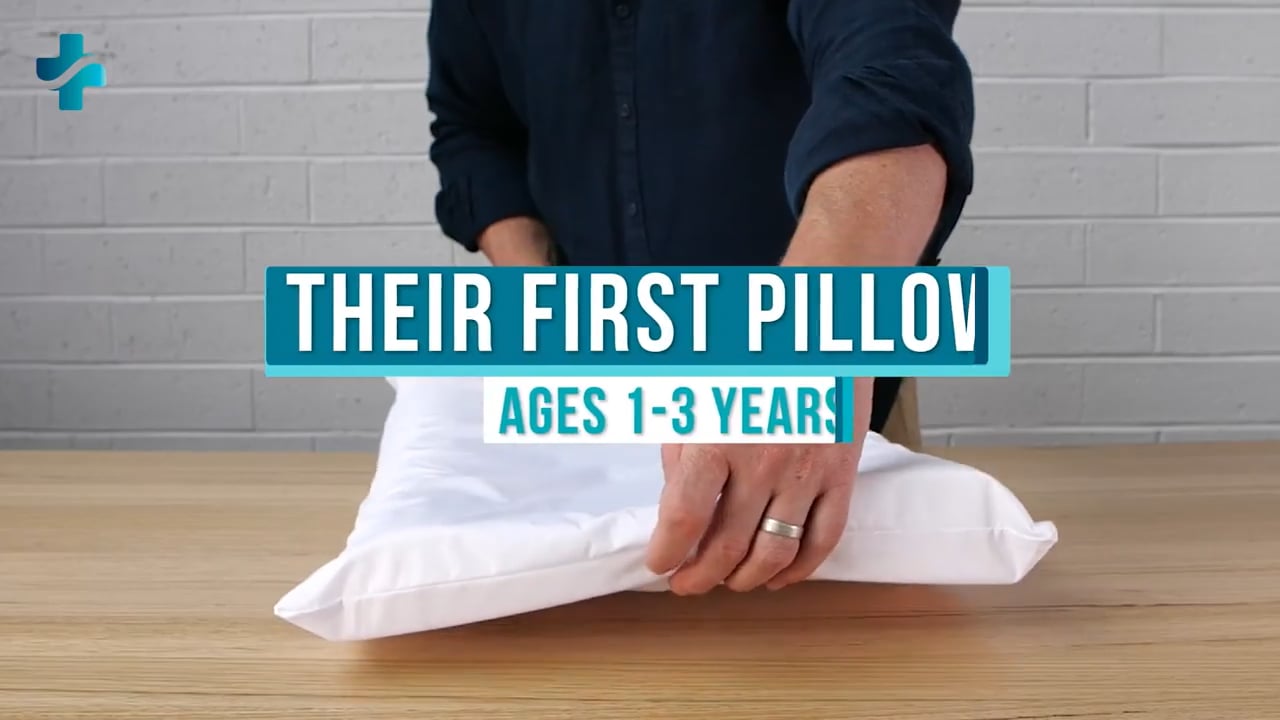 Ensuring your child's development and correct alignment of the spine while sleeping…
Gently contoured to the curve of a child's neck to position the child in the perfect sleeping position and provide excellent support and comfort.
Extra soft to allow easy movement.
Proudly Australian Made & Owned.
Our products are expertly crafted in Australia by Therapeutic Pillows, our family-owned and operated business, celebrating 50 years of excellence. We adhere to world-class manufacturing, health, and safety standards, showcasing our commitment to quality as a proud Australian-owned company.
Designed by Health Professionals
We consult with Australian Chiropractors, Physiotherapists, Osteopaths, and Naturopaths to design therapeutic products that provide relief from discomfort caused by a range of health conditions.
Fast Delivery
Australia Wide
Designed and Recommended
by Health Professional
Rated 5 Stars on
Feefo in 2021
Registered NDIS
provider
95% of our Products
Made in Australia
Need Help Deciding?
Product Finder
Answer a couple of questions and we'll try and find the perfect product
Give it a go
Ask a product question
Don't feel like chatting on the phone? We understand.
Lets do it
Give us a ring
Talk with a real person, not a robot. We're here 5 days a week to answer all your questions.
03 8585 6685