FREE LUPIN HEAT PACK AND FREE SHIPPING FOR RETAIL ORDERS OVER $100 WITHIN AUSTRALIA
| | |
| --- | --- |
| TGA Listed | Yes |
| Australian Register of Therapeutic Goods Number | No. 174460 Device: Cushion, lumbar |
| Model 1 | 40cm wide x 55cm high |
| Model 2 | 40cm wide x 50cm high |
| Inner | 100% open cell 'breathing' urethane foam |
| Dura-Fab Outer Cover | Woven polyester. It is a super-soft easy-clean washable fabric. |
| Country of Manufacture | Australia |
Inner: Do not immerse in water. Dab clean with a solution of warm water and mild detergent. Do not machine wash. Do not tumble dry.
Dry flat away from direct sunlight.

Dura-Fab Outer Cover: Do not bleach. Do not machine wash. Do not tumble dry. Line dry. Warm iron. Dry cleanable.
Full size postural back support
A full moulded postural back support featuring unique flanks designed to prevent lateral movement. Soothes and alleviates back pain through premium firm support.
Improve your Lumbar support with these product features:
Full size back support
Lateral support flanks 'hold' you in superb comfort
Designed to prevent lateral movement
Designed specifically for people with spinal pain, back pain, spine conditions or disability
Assists in the relief of back pain
Promotes good posture and correct spinal alignment
The perfect backrest support if you spend long hours driving
A back support designed to help with a range of therapeutic conditions:
Back pain
Spinal conditions
Disability
Poor posture
Chronic back pain
There are 2 sizes to choose from
Model 1 (Large):

for firmer seating like dining chairs, office chairs or bench seats where you do not sink into the cushion. 40 cm wide x 55 cm high.

Model 2 (Small):

for softer seating like couches or lounge chairs where you do sink into the cushion more. 40 cm wide x 50 cm high.
Therapeutic design to reduce lateral movement
A sturdy, hard wearing full back support for the car seat, the chair at the office or the home featuring unique flanking supports designed to prevent lateral movement and relieve stress on the lumbar spine and rib cage.
The Total Spinal Support is scientifically designed to fit any normal seating position. This back cushion is contoured to embrace and comfort the lower spine and relieve spinal tension which occurs in most day to day seating positions.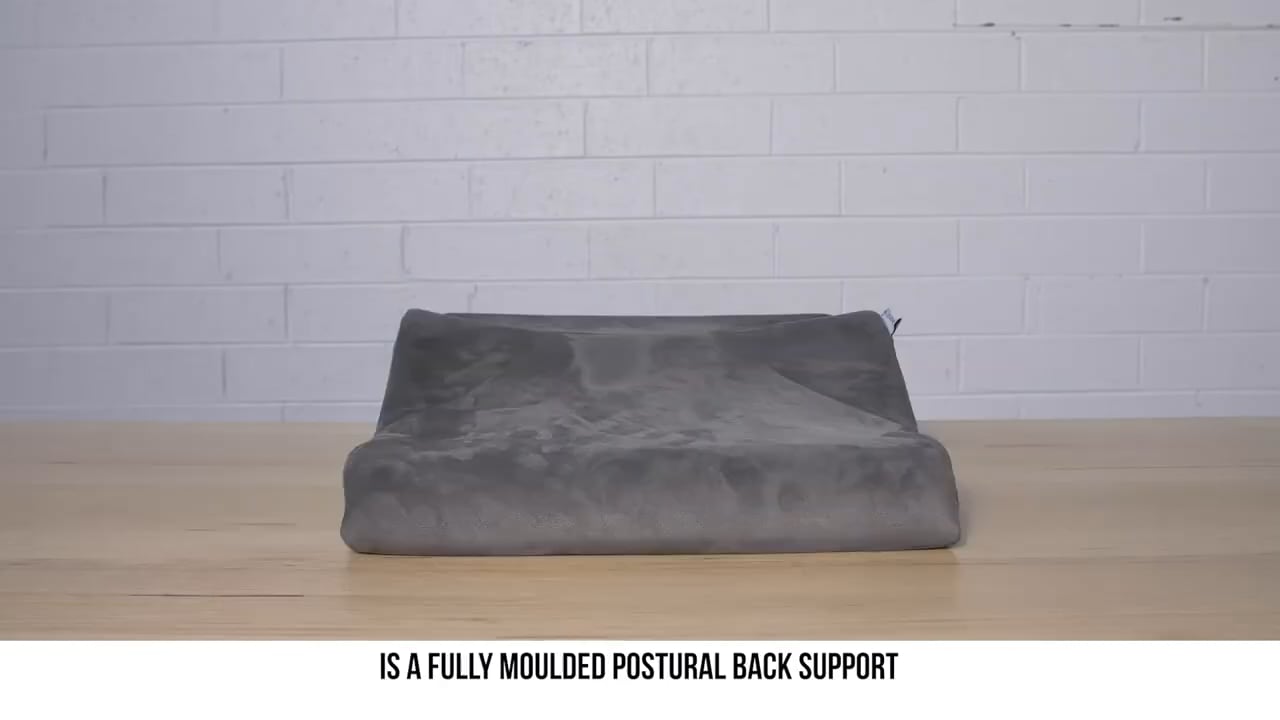 A Lumbar Support Ideal for:
Back pain
Spinal conditions
Disability
Poor posture
Chronic back pain
Full back support
A full length support great for use at home, in the office or in the car.
Unique flanks for spinal alignment
Side flanks are designed to reduce lateral movement and keep the spine in correct position.
Faux-suede DuraFab cover
Available in a machine washable, durable, soft faux suede DuraFab cover.
Proudly Australian made & owned
Our products are proudly made in Australia by us, an Australian family owned and run company, using world class manufacturing and health and safety standards.
Designed by health professionals
We consult with Australian chiro's, physio's, osteo's and naturopaths to design therapeutic products that provide relief from discomfort caused by a range of health conditions.
See What 5000+ Customers Are Saying
Service Rating : Good product, good service and postage

Product : A good product! And good service!
Service Rating : This is the second one I have bought. It - and your service - must be good!

Product : It is the second one I have bought - that tells you something.
Service Rating : quick prompt service

Product : I love this I do very hard physical work and when I come home si in my chair I get relief. My back is supported and gives me comfort to sit and watch tv and do my cross-stitch embroidery as my muscles start to relax.
Fast Delivery
Australia Wide
Designed and Recommended
by Health Professional
Rated 5 Stars on
Feefo in 2021
Registered NDIS
provider
95% of our Products
Made in Australia
Questions & Answers
What is the difference in size?
The difference is the total number two is 5cm less high than the total number one. Effectively the bottom five cm where the support curves under the bottom is removed.
Best Model for a desk chair?
We would recommend Model 1.
The model one is the higher of the two and best suited to office chairs, dining chairs and other more upright chairs. The model 2 is shorter and best suited to lounge, couch or relaxing chairs
Best support cushion for my lounge?
We recommend version 2 model. Very good support and quite firm which is what you would require on a softer style lounge or couch.
How do I know which one is better for me?
The Model 1 is more suitable for cars as it is slightly larger and Model 2 is more suited for couch or chairs.
How wide is your back support at the base?
Total Spinal Support is 10 cms wide at the base.
Is this support cushion suitable for a dining room chair?
Yes it will be suitable for use on a dining chair but it does not have a back strap to attach it to the chair so will not hold in place permanently. Strap can be affixed if you would like it
Which size is best used for a recliner lounge chair?
We would recommend the total spinal number 2 as it is better if you do not have the extra length on a soft seating material like a lounge
To assist with poor posture and lower back pain would this cushion be good teamed with a posture cushion to sit on, or would this be suitable on its own?
The product would be best suited on its own rather than with another product. Using with a wedge would tilt forward and deme the total spinal support to not function as designed.
What is the difference between the two total spinal support cushions. Can I use either one for my seat in the motorhome.
Model 1 is slightly taller ( 40 cm wide x 55 cm high) than Model 2 (40 cm wide x 50 cm high). You can use this wherever you like as it's easily transferable.
Why does ad say Duracover is machine washable, when care instructions say do not machine wash?
The cover itself is machine washable, however, the foam of the product is not. We suggest removing the cover and washing it in the machine and then spot cleaning the foam with a warm damp cloth and mild detergent where required.
Can you use this back support in conjunction with the diffuser cushion?
Yes! you definitely can use any of our seat cushions in conjunction with our back supports!
With regard to the Total Spinal Support, does the product come with any kind of warranty?
All of our products carry a standard 12-month warranty and are then assessed on a case-by-case basis if after the 12 months,
Need Help Deciding?
Product Finder
Answer a couple of questions and we'll try and find the perfect product
Give it a go
Ask a product question
Don't feel like chatting on the phone? We understand.
Lets do it
Give us a ring
Talk with a real person, not a robot. We're here 5 days a week to answer all your questions.
03 8585 6685